So I have been waiting to hear back from someone to let me have permission to post these pages from my Scrap Your Day project online. A couple I have to skip for now, but here are a few.
I recently posted about Scrap Your Day and using Library of memories to work on this project successfully
.
Here is June. Link is
HERE
in case the picture is cut off.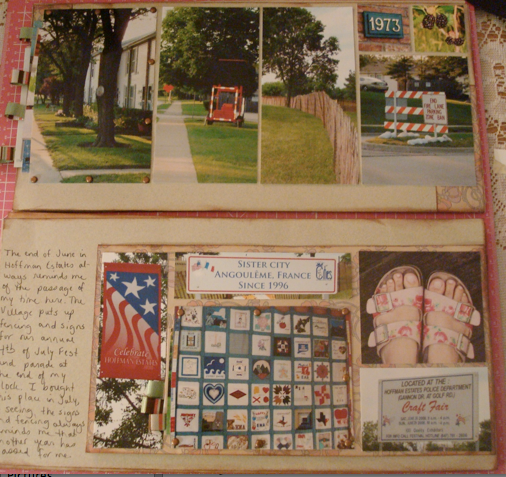 Most of June was about how my neighborhood has a 4th of July Festival every year and at the end of June all the signs and fencing that goes up reminds me of the passage of time. I also had a job interview that day at the Emergency Nurses Association headquarters. The ENA has a really cool quilt hanging in their foyer. Each panel was donated by a separate state association. Behind that photo and another I did some hidden photos.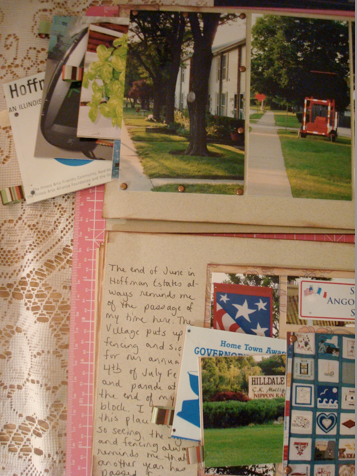 July was camping in Wisconsin Dells. At that point I had read Photo Freedom several times and so I was inspired to take general photos of what it looks like to go camping with my family.
LINK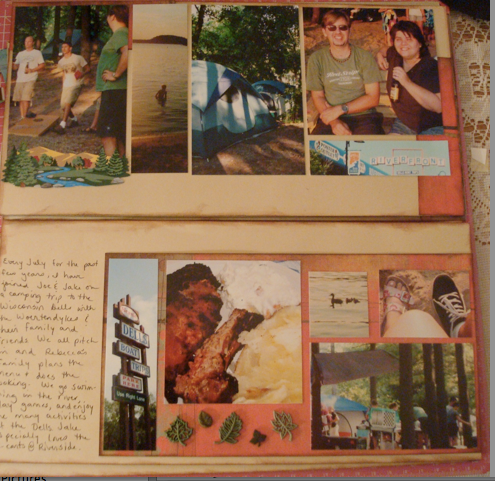 August was the super boring month -- nothing happened that day. Just ran errands. But again, had excuses to take pictures of the streets and shopping malls near me where I spend a lot of time during a typical week.
LINK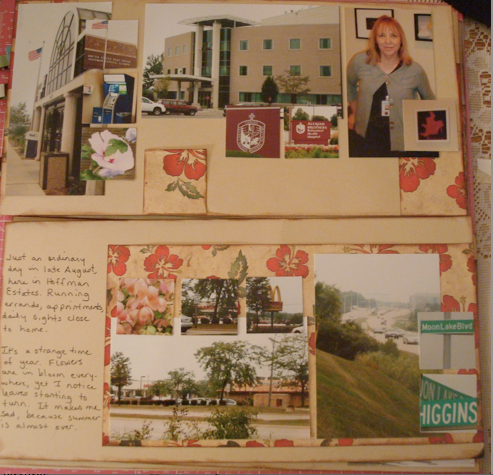 September was another job interview, but this one was in the Loop. Had a great excuse to take more photos of my beautiful city. I looooove architecture and public sculpture. I take lots and lots of photos of signs. And I finally took pictures of the el.
LINK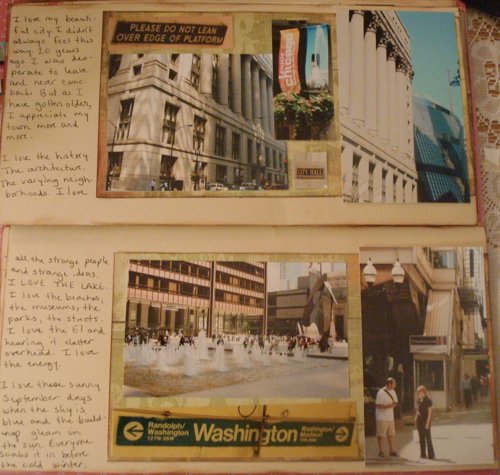 October is the last one I did. Mostly random pictures of fall colors and decorations. And the shoes I bought on my birthday trip to San Antonio because they have my name on them!
[PHOTO DELETED BY REQUEST]
These are deceptively simple pages. Almost no room for embellishments and you can barely see the background. But scrapbooking is more than papers and accents. Choosing the right photos. Deciding what story you want to tell. Deciding where each photo is placed. Relationships between images. Cropping images to focus on what you want your viewer to see. These are all big parts of scrapbooking too -- my favorite parts!