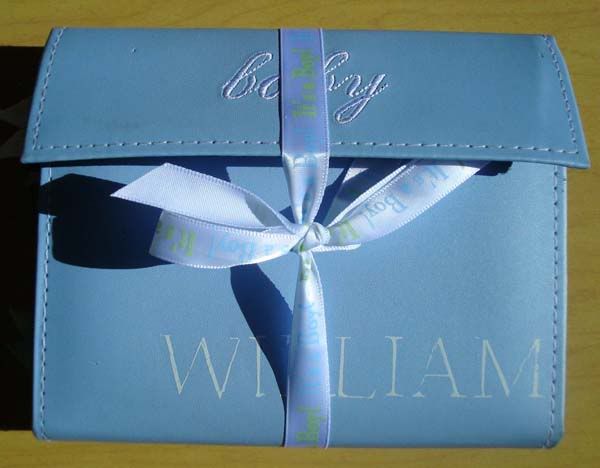 As part of our LOM, Stacy had us all work on a PAS, or "photo album scrapbook." This is a cute idea Stacy has been promoting for a couple years now as a way to "process" lots of photos and get them into a viewable format. It is a little more "creative" than a mere photo album, and a lot less elaborate or intimidating than an actual scrapbook album
Here is an article Stacy authored on the PAS, with photos
.
How is a PAS different from a photo album? A few ways --
1. You alter or decorate the cover in some way.
In the article linked, Stacy painted the edges of the album cover, cut a slit in the binding to add a large ribbon bow, and put a photo in the window. There are lots of ways to alter or decorate a photo album cover to customize it.
2. You crop and decorate photos to fit in the slots.
If you have a vertical photo and your album has horizontal slots, you can possibly crop your photo down to fit in the slot. Alternatively, you can cut your photo at a good spot (not across someone's face), mount both pieces on a piece of paper, decorate as you like, and slip both pieces in side by side. The viewer's eye will "stitch" the two together.
3. You decorate the inside of the photo album.
In the article you have to look close to notice that the album has a "memo area" to the left of the photo slots. This memo area is covered with strips of coordinating paper. You can also see, sometimes, that the photos are mounted on paper and the two together are bigger than the photo slots. The excess just sticks out beyond the sleeve. If you use a larger album that holds 2 photos on a sleeve with a strip between (usually intended for notes or the negatives), you can cut slips of coordinating paper to slip in that spot.
4. You add journaling.
Stacy added journaling to the album in the article by actually gluing a computer-generated page over a sleeve in the album. If you have a larger album that holds 2 photos per page, so 4 photos per spread, you can easily designate one of the 4 slots to a card with journaling on it. Stacy also used rub on words on her photos. I also like using word stickers.
5. It's supposedly easier and quicker than traditional scrapbooking, with close to the same results.
I admit, my first reaction to the PAS concept was "no way." A PAS is used to corral a group of photos all on the same subject -- a trip, a wedding, some important event or theme. For anything I have that might encompass that many photos, I will have a lot of memorabilia and a lot of journaling, so I did not see a way to really apply this concept to my life.
But there are a lot of benefits to the PAS. They make wonderful little gifts. I also think, for large topics, the smaller sized photo album is a lot easier to share with others than a 12 x 12 scrapbook album. Those albums are giant and bulky. Another advantage is that while I might be able to get several photos on a page or even do multiple pages on a topic, if I have 40-50-60 pictures, then a PAS allows me to put them all into viewable form. As opposed to scrapbooking my 10 fave photos of a trip, and the rest sitting on my computer.
You can also do both -- create your traditional LOs and put them into your LOM, then use a PAS for the rest of your photos. Stacy has mentioned doing this herself many times.
A few months ago I found these adorable baby boy brag books at Archiver's for about $2.00 each. My sister has recently had her first child, and Mother's Day was approaching. So I decided to give it a whirl.
The biggest issue initially was setting up my project. That took the most time. When I sat down to actually construct my albums, the one I did for my mom, with no stamping or inking and almost no embellishments, literally took 90 minutes and a lot of that was deciding what order to use the photos. When I did the one for my sister (changing up the photos used a bit), I had more time so I added stamping, inking, ribbon, etc and it maybe took 3 hours total.
I had not printed any photos at all on the topic, which was my sister's new baby, but I had taken all the photos she emailed me, plus photos I took of her while pregnant, plus scans of older photos I've been working on for a long time, on Shutterfly. To set up my project, I created a new folder on Shutterfly just for this project. I then went through my highlights folders from Q4 2008 and Q1 2009 and selected photos to use and copied them to the new Shutterfly folder. I also knew of a few older photos I possibly wanted ot include so I went through those folders and did the same. I sent a print order through and picked up my stuff at Target the next week. So! I had all the photos to use in one envelope.
To save time later, I spent one evening with the photos and my paper trimmer and I pre-cropped them down. I figured I would be mounting almost all of them on paper anyway. I also selected several sheets of blue cardstock and cropped them to 4 x 6 to use as base pages.
a note here -- I learned the hard way that if you use a small photo album with a clasp or a flap closure, mounting photos on paper will make the album to thick to close! annoying! Even one sheet will make the darn thing too thick. I had to find a way around this because I didn't discover my albums wouldn't close until I had finished them! So keep that in mind!
For journaling I used some vellum quotes, some family themed quote stickers, and one set of alpha stamps.
I welcomed the chance to use up a few sheets of argyle-patterned paper I've had for years but thought was too loud for my traditional scrapbook layouts. I also purchased 2 sheets of baby themed patterned paper and used all of it up.
To decorate my outside, I tried using some white rub on letters (not sure how well that worked) and to keep the darn things closed I attached a length of ribbon to the back of the album with glue dots so the album can be tied shut.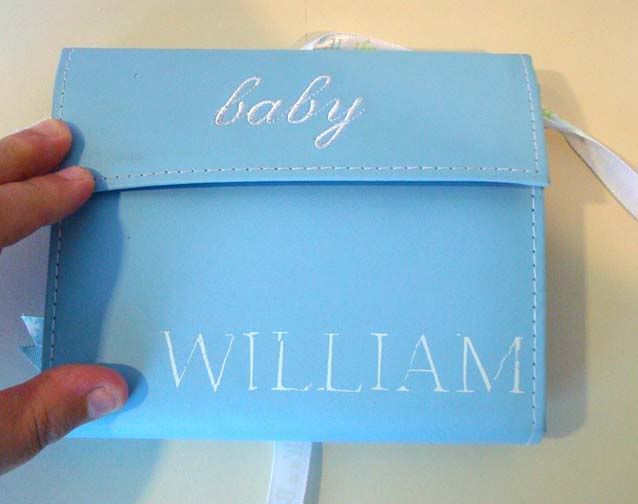 The first page is a title page. I actually added ribbon a lot later because I personally like the look of things sticking out of the page protectors (I just bought a McGill tab punch for this reason too! -- you can see how Stacy used hers in the article).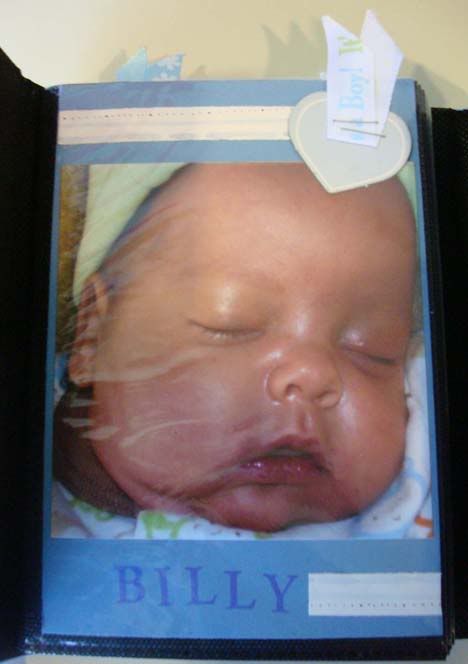 Then I went through some expecting pictures. I really wish I had printed out the ultrasound pictures but maybe they were too lo-res. Anyway, I was glad I got a chance to take some of these pictures at Thanksgiving and Christmas. My nephew was 3 months early so if I had waited I would have missed it!
I was also really glad I had scanned and organized all the old family photos! I knew I had pictures of my mother pregnant with my sister and I wanted them side by side. That "Now and Then" thing is very big in LOM and I LOVE IT.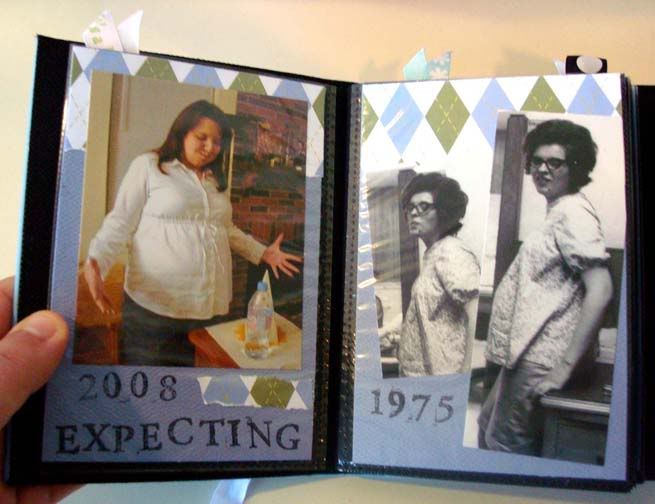 When my mom saw the pictures of her pregnant, on Mother's Day, her eyes got REAL BIG and her mouth dropped open. She was embarrassed and pleased to show her fiance those pics of her taken 30 plus years ago.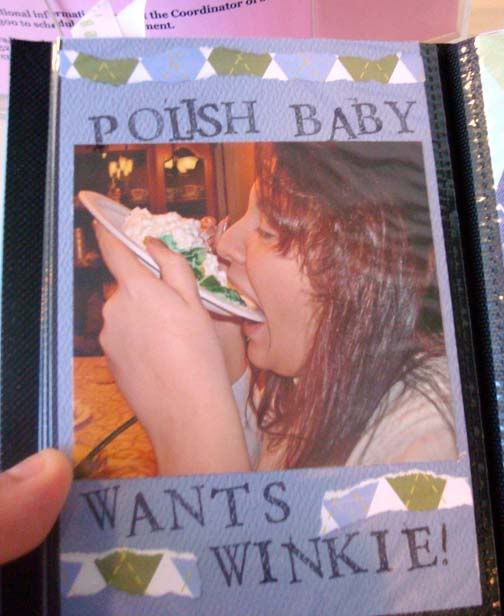 The winkie thing is an inside joke. We joke that the winkie is a traditional Polish food, because if you went to your Polish grandma's house for holidays in the 1960s-70s-80s, you were going ot be eating winkie. I had forgotten all about it, until my (other) sister had one on her table the first time she hosted Thanksgiving. I exclaimed, "Oh! The Traditional Polish Winkie! How I have missed you!"
I've been collecting pictures of various family members with the winkie or eating the winkie, ever since then. I even put a winkie picture in my Becky Higgins album from CKU-A. I feel a mini album coming on.
By now you are probably wondering what a winkie is.
Just remember, there are Winkies (see link) and then there are generic imposters, aka
CHEAP WEST SIDE WINKIES.
Only a real winkie is a winkie.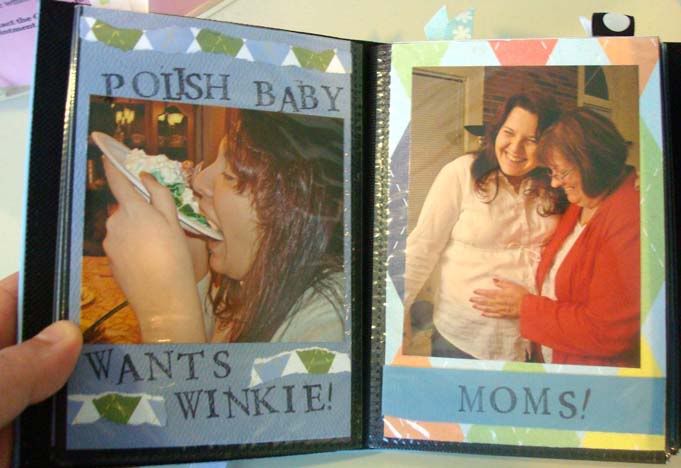 In my sister's version of the album I included pictures of our mother with my former stepfather because I knew my sister would treasure pictures of her parents together. In my mother's version of this album, I skipped those old family photos and included more pictures of her with the baby.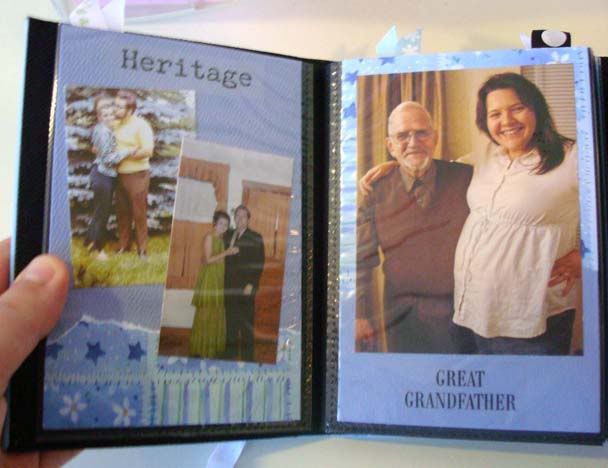 Then I moved to pictures after the baby was born....
In the hospital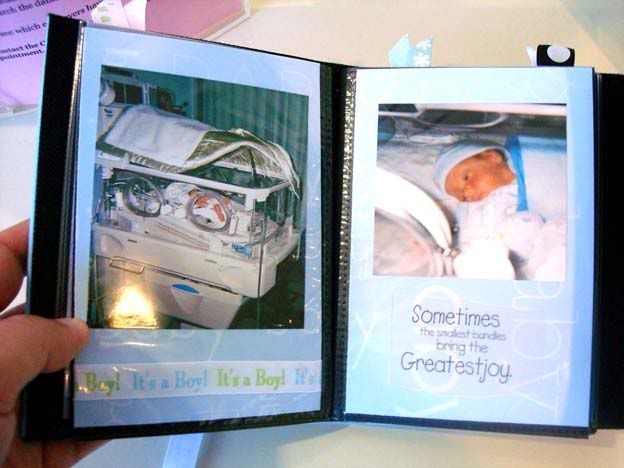 With Mommy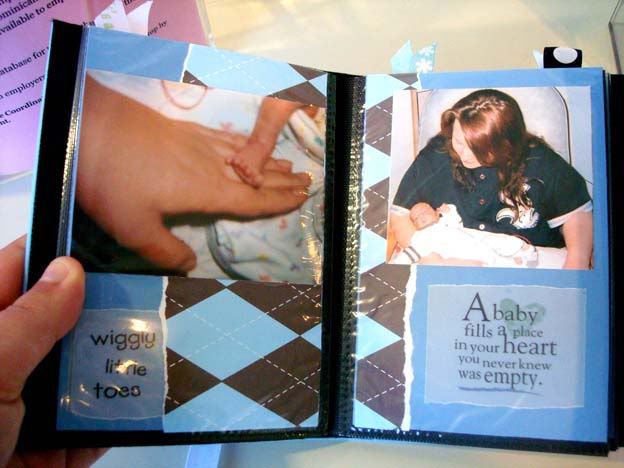 With Daddy (I also did not include pics of him in my Mom's album)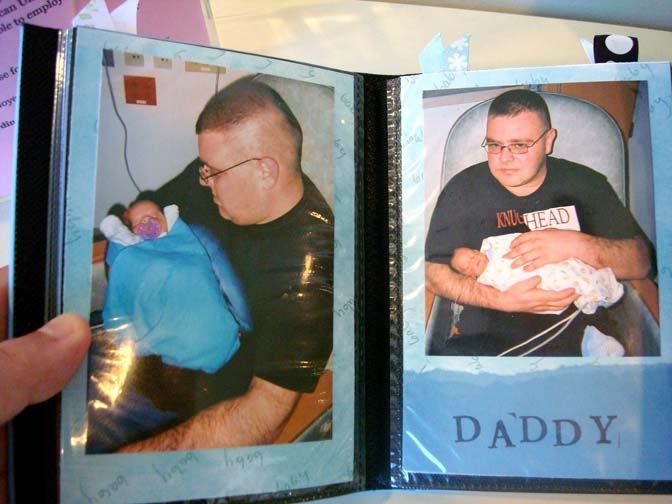 You can see that all I did was tear pieces of patterned paper and put them on cardstock on many pages. Very simple.
Then BATH TIME! I really wanted to include these pictures of my mom giving my sister a bath, and then my sister bathing her own baby 30 years later.
And of course pics of my mom helping to bathe the baby too!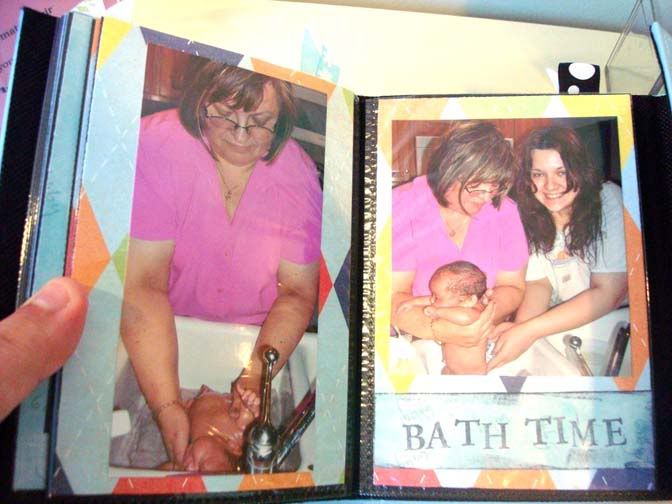 In my mom's version I included a spread featuring a picture of her changing my sister's diaper in 1976, and a picture of her changing Billy's diaper in 2009. Kind of wishing I had included that in my sister's album too, but I am not sure what I would have taken out to fit it in there.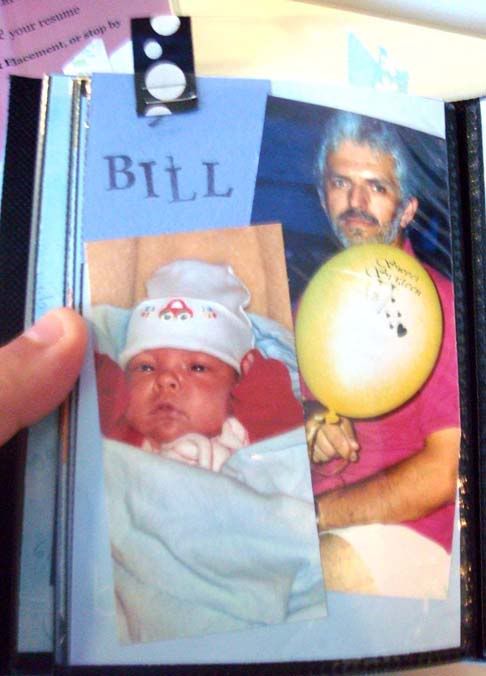 Had to include a picture of Billy's namesake on a page with him.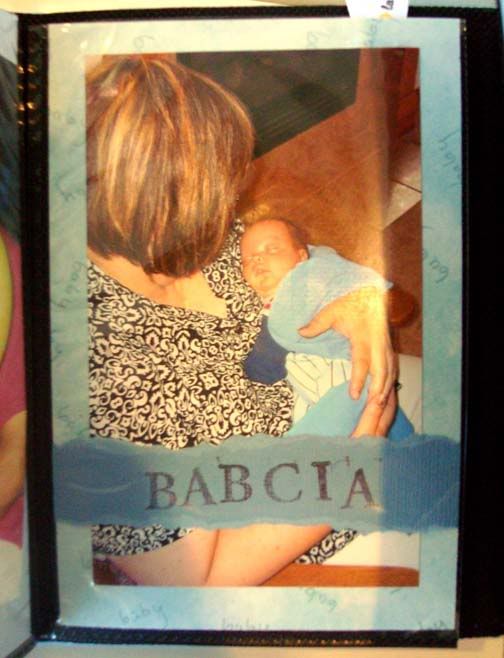 And I did a page when my other nephew was born, with one picture of my mom holding him, and the word "Babcia" which is Polish for grandmother. So I did one here too.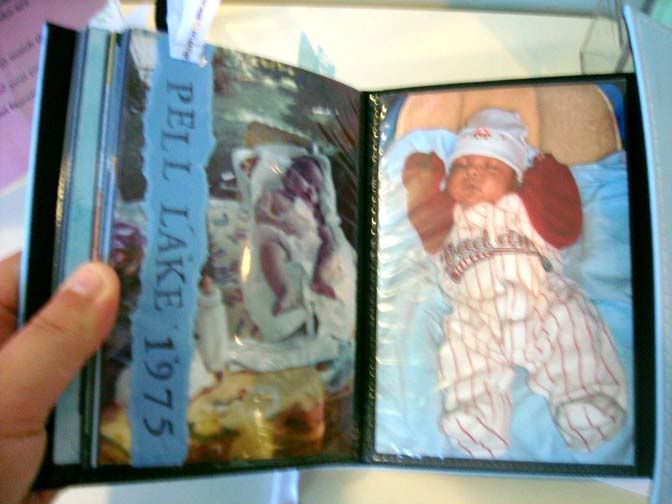 And a picture of my sister as a baby, and her baby, side by side. The left photo also has a lot of meaning because of where it was taken -- our grandparents' home in Pell Lake, Wis, which was a big part of all our childhoods. My sister will like having this picture. Everything in that picture has meaning for me -- the table she is on, the table umbrella, the yard, every tree in the background.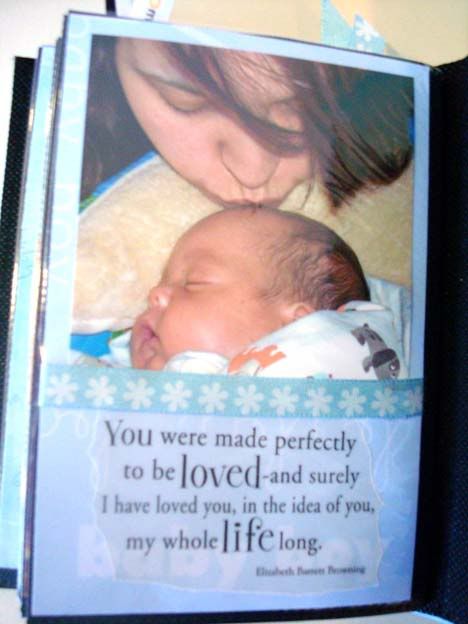 And! I loved this quote, and this is one of my favorite of all the pictures my sister sent me.
So there you go. Photo Album Scrapbooking. Go for it.