[This entry migrated over from my old scrapbooking blog...]
===============
• Aug. 21, 2006 - Joyce's Europe Album
Well, this is something new. For the first time in months I actually have nothing to do at work. In truth, there is mucho urgent stuff to be done. But, I can't move on any of it until my boss comes and sets me up to PDF these files, and he is flying around working on other things. So here I sit.
Luckily, I took some photos of a mini envelope album I just completed for my friend Joyce, who recently toured Europe with her husband. She took 400 photos -- but only 4 of either of her or her husband, and only 1 of both of them together! -- and was slightly overwhelmed at the project of printing them out and putting them even into regular photo albums. So I offered her a mini album of her favorite shots.
Initially, I intended to use a Destinations Tag Album I'd made in a Magic Scraps class at CKU-Chicago this year, but her photos were mainly landscapes and large buildings, and could not be easily cropped to fit on the tags. So I just made her yet another envelope album: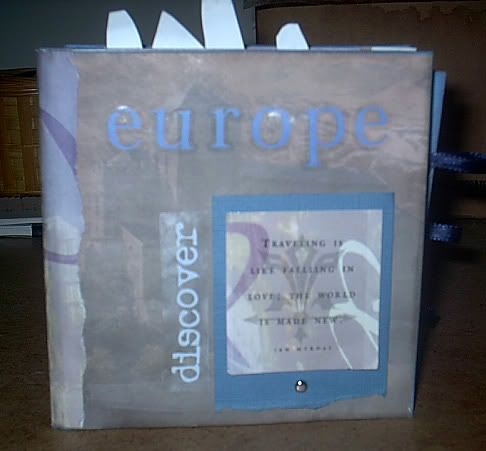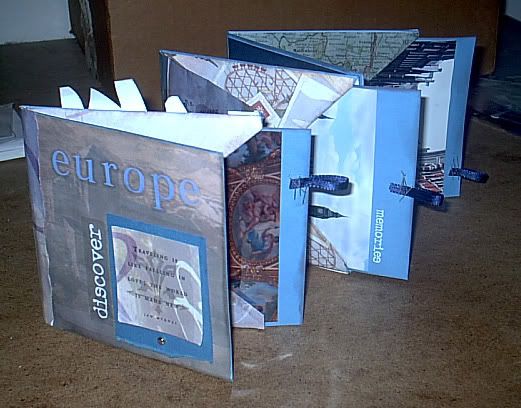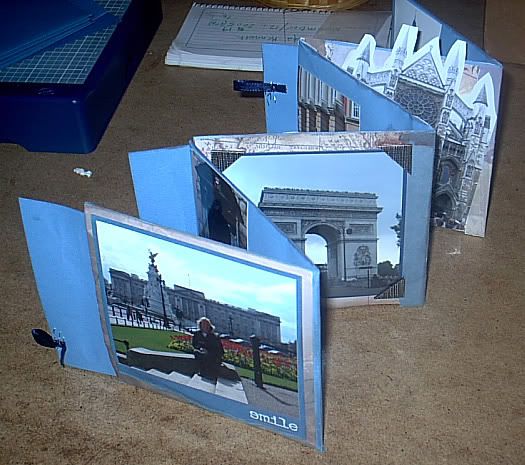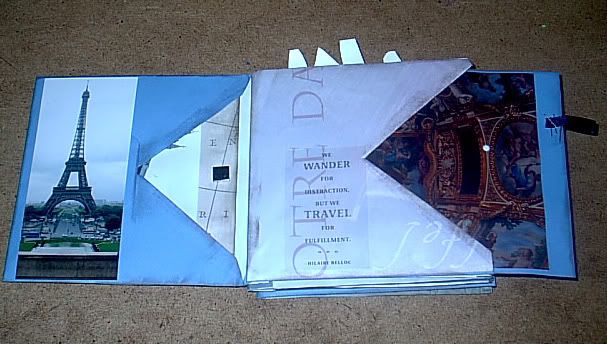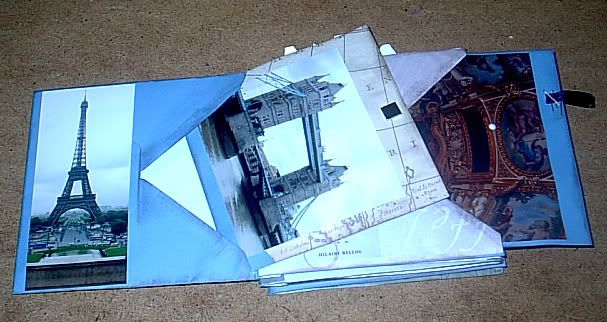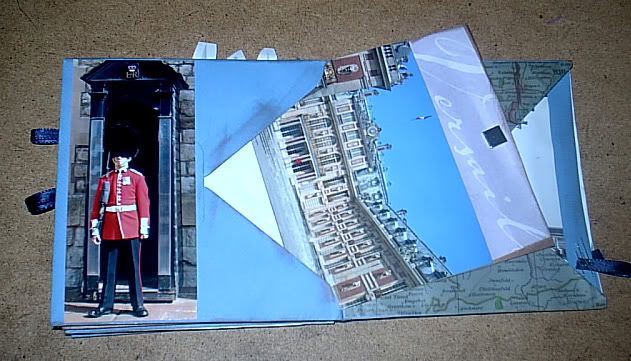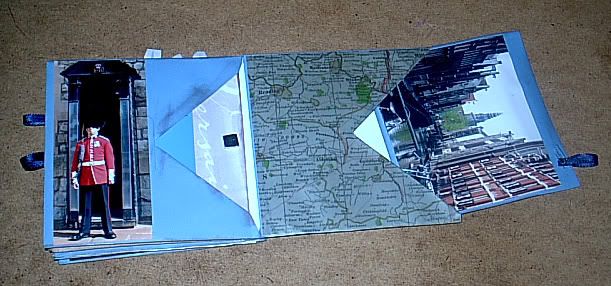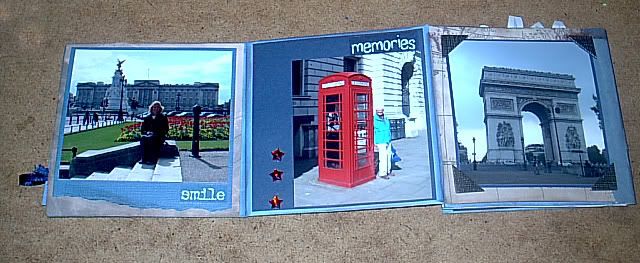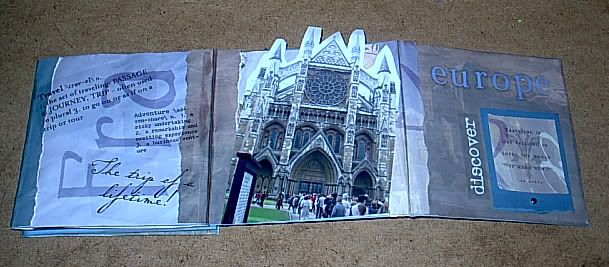 I hope she likes it! She's pretty easy-going, I am sure she will.
The Europe album is not my most recent creation. This weekend I bought envelopes in a larger size (trying to break out of my creative box) and made a blank album on a baby boy theme for a coworker whose wife is due in a couple of weeks. I also bought some more blank envelopes in red, and I think I will make a blank Christmas-themed album.
In fact, I think I will make several blank albums. Around Thanksgiving, my workplace has a craft show where employees can sell (and buy) handmade items. At last year's show I bought my friend Wendy a cute little sock monkey named Stumpy, who was created by one of our designers. Initially I bought Stumpy for me, but eventually I sent Stumpy to live out his life surrounded by Wendy's large collection of sock monkeys.
I was just thinking... wouldn't it be great to buy a little album like these, and then just put your Christmas 2006 pictures in it, and have something to share around by New Years? Easy peasy. There are several other themes I can think of as well -- baby, love, travel, mother, and so on. What a great way to use up my scraps and random embellishments and old papers! I think I will also have a sign, offering to make custom mini albums on a number of themes, for the same price as the pre-made ones.
And if they don't sell, no big deal, because I am sure I can use them for myself. :-)
==============

1. Photos 1-11: Photos of Joyce's Europe Scrapbook. Taken by me. Aug 2006.
==============

Comments on this entry:
• Aug. 23, 2006 - Untitled Comment
Posted by MargieH
Hey! LOVE the layout of the blog! I finally figured out how to comment on this thing! LOL!! GREAT envie album! She's going to LOVE it! TFS!!!
• Aug. 24, 2006 - Hiya Margie! *in my Fargo voice*
Posted by Me
Thanks so much!
I had non-registered user comments disabled for a while as there were some problems with people from the CKU list. Hopefully that person has found someone new to insult by now.
Well, she liked the pictures of that album anyway. If she didn't like the album, since her photos are all digital, I figured it was no big deal. And fun to make!
• Aug. 30, 2006 - from scrapperjen1 (Peas)
Posted by scrapperjen1
I LOVE the Europe book! VERY cool!
• Sep. 5, 2006 - Untitled Comment
Posted by Me
Thanks everybody!
• Sep. 12, 2006 - Untitled Comment
Posted by Gwyn
This is wonderful. If she doesn't like it, send it to me! I can use it! You are creating some wonderful gifts for the people in your life.
• Sep. 13, 2006 - Thanks Gwyn!
Posted by Me
Girl you so do not need my pathetic attempts at scrapping, with those gorgeous England pages you have been making!