...this post migrated from my old scrapblog...
===========
Celestial Mini Album
Posted on Mar. 7, 2007 at 6:01 PM
Someone saw the mini envelope albums I posted here and recently commissioned me to make her two albums. We discussed topic and theme ideas via email, and after a bit we agreed I would make one album in a celestial theme, and one on a general nature theme. She sent me payment and I set to work. I guess that makes me a "professional," ha ha.
It was harder to make these than I thought it would be. This commission solidified something I suspected about my scrapbooking starting back at CKU. I really don't like "construction" of scrapbooking projects all that much. I do enjoy it in some ways, and I like having the item that I made with my own hands. But the process of constructing itself doesn't really interest me. What I like about constructing is making manifest in the physical world an idea I have, and those ideas involve storytelling and imagery. Without the photos, the words, and the story, I find it difficult to create.
This makes me different [as if I didn't already know this] from the scrapbookers the magazines are designed and published for and about. Those scrapbookers are excited by supplies. By papers, accents, techniques. They are art-oriented in that they enjoy the construction as an artistic endeavor.
What I enjoy is organizing the story.
Anyway, that is why I have found it difficult to create these, and I am not that excited with the final result [that doesn't mean I did not have any fun making these -- I did]. I mailed them to my client, and she said she likes them a lot. Awesome...my first success!
One of the reasons I love making these mini albums is to use up all the random "stuff" I bought years ago, my leftovers and tidbits from other projects. But since she was purchasing these albums, I did not just want to unload my older items, so I did go shopping. I discovered that my own tastes are truly "off" as far as the current scrapbooking market is concerned, because it was very difficult for me to find what I wanted. I had to go to three stores to find these Dress It Up leaves, for example, and no one had the Jolee's stars I had in mind.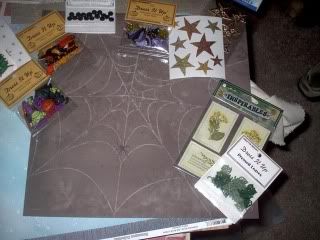 I kept the spider web paper for myself, but the blue/purple paper under it was used in the Celestial album. I also had to buy these other Dress It Up buttons for myself, since they have brooms and of course, I always need broom accents!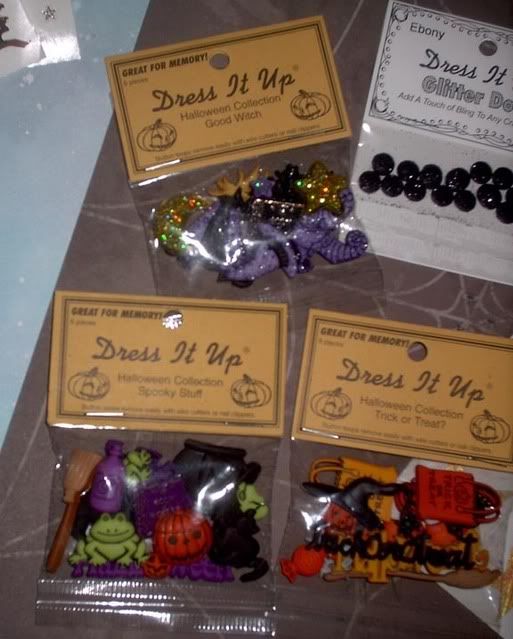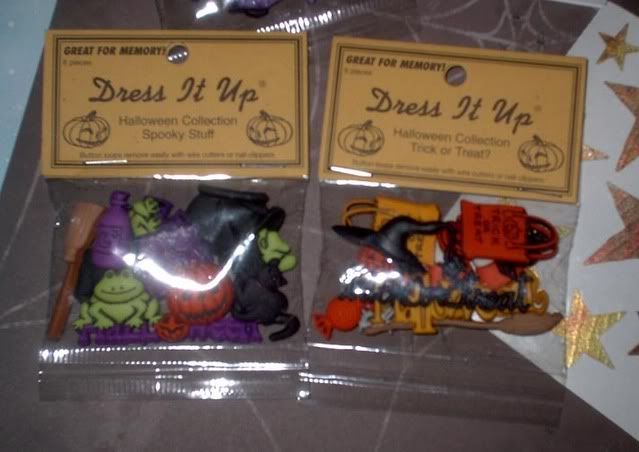 I had initially planned to make the celestial album blue/purple with silver accents, but everywhere I went, I found bronze and copper metallic stars instead, so I changed my color scheme. Of course, after I went shopping in three stores and then finally came home and looked... I discovered a large stash of celestial items I have been buying and hoarding for six years now. Well, I used all that up in here anyway.
Celestial Album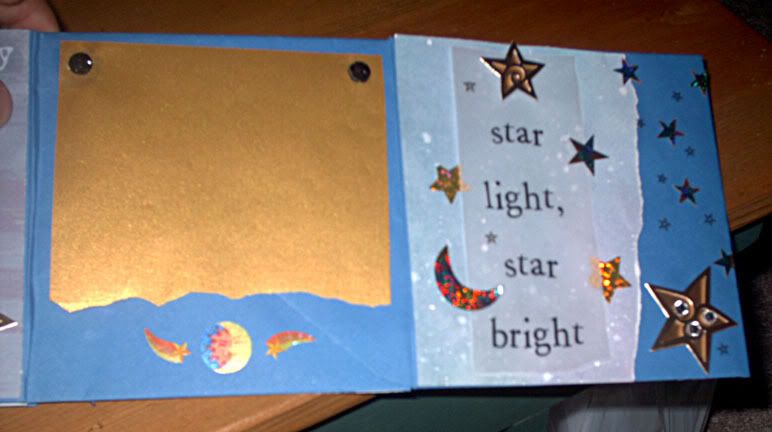 The cover has a vellum quote from a Quote Stack. Large gold stars bought new from Sandylion. Gold glitter stars and copper/blue moons from my olllldddd stash. The tiny gold stars were on a sheet of Christmas star stickers, surrounding the large stars in the center of the sheets. Blue celestial paper bought new. To the left, a panel with a photo mat of gold vellum [yes, I know gold and bronze don't match — oh well] with some black glitter dots from Dress It Up I just bought. More celestial stickers I bought years ago and have been hoarding forever.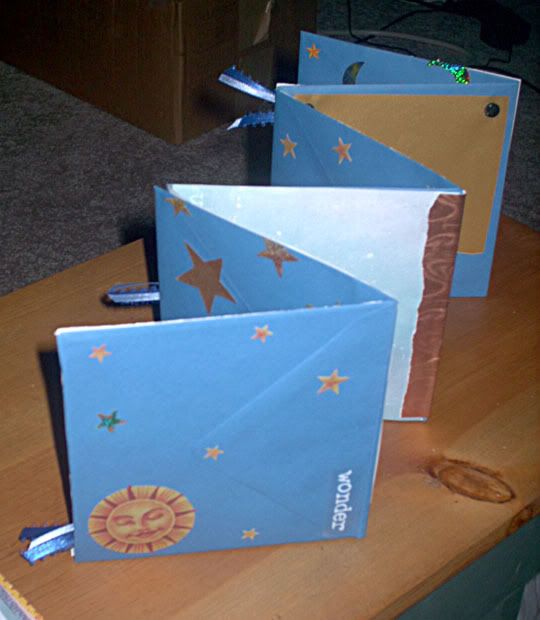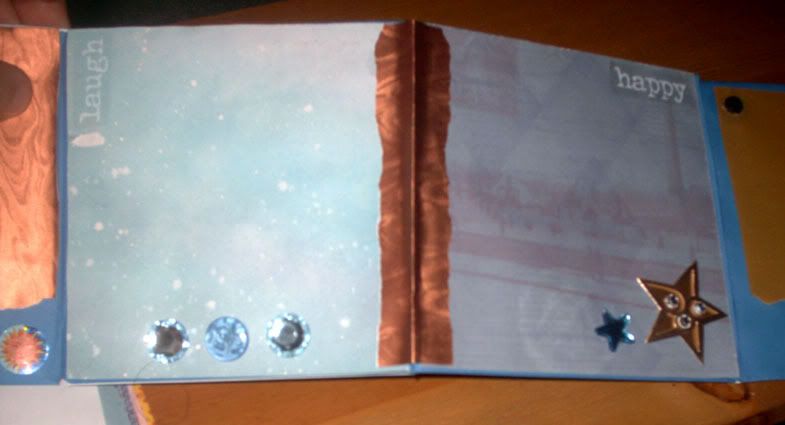 I love this copper paper I used for the hinge here. I bought it for another project at my LSS three years ago, and I have some bits left. I can't find it any more and I love it. The blue patterned paper is new, I want to say it's Colorbok, but I'm not sure. The blue star and circles are all page jewels. I've been using these white word stickers in almost every album since I got them as a freebie at CKU last spring. More new celestial paper.
More of the copper paper I just love. More blue/copper star stickers to match the cover. Another old sun sticker to match the ones on the 2nd panel. More word stickers. The sun on the left is from a complete unopened package of Vellum Suns & Moons stickers from Sticko that I bought maybe 4 years ago and have kept all this time.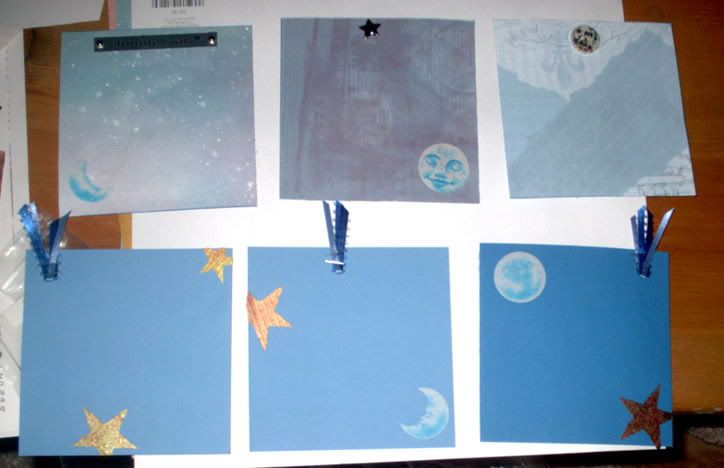 More celestial and blue patterned paper to match the outside. The pale blue pattern is called Gothic Angels and was purchased and used in Joseph's album. I had some leftover and I liked the architectural elements. The moons are from the same package of Sticko Vellum stickers. The bronze stars I just bought. You can't see this, but the top left card's horizontal element is something I just bought — a set of silver word plaques on a baby theme. This one says "Shining Star" and has silver mini brads in the holes. The top middle card has a silver star brad. The top right card has a silver/white star button. Several years ago I was in a Secret Sister Swap and my SS, Pauline, sent me a whole slew of black/silver star-themed items. I loved them but have never used any. This was one of them. The ribbon is by Offray.
The left envelope uses up all the rest of the blue/copper stars and moons as well as the small suns and and stars stickers. You can see the Shining Star plaque better here. The 2nd envelope has more blue patterned paper and the silvery moon by Jolee's I had to check 3 stores to find.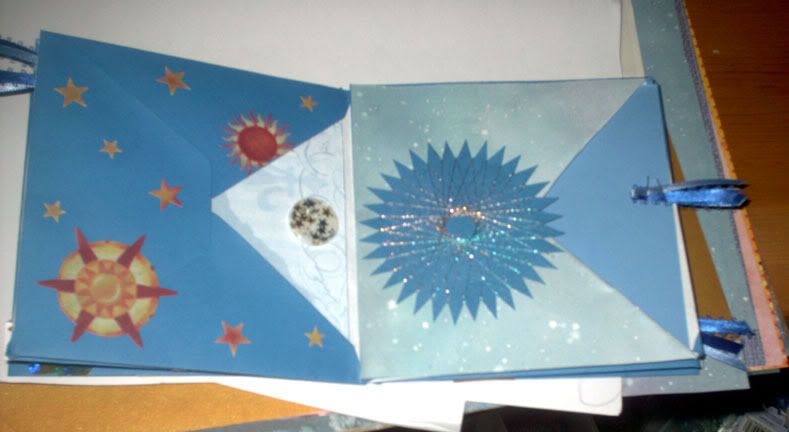 The left envelope uses the rest of the Sticko Suns & Moons Vellum stickers. On the right hand side is a star made by my friend Sandra. Sandra got into a period of teabag folding and making stars like this one a few years ago, and sent me several of her pieces as an RAK. I have never used them because I never had the right place to put them.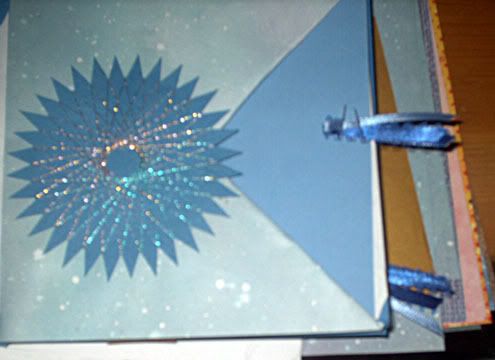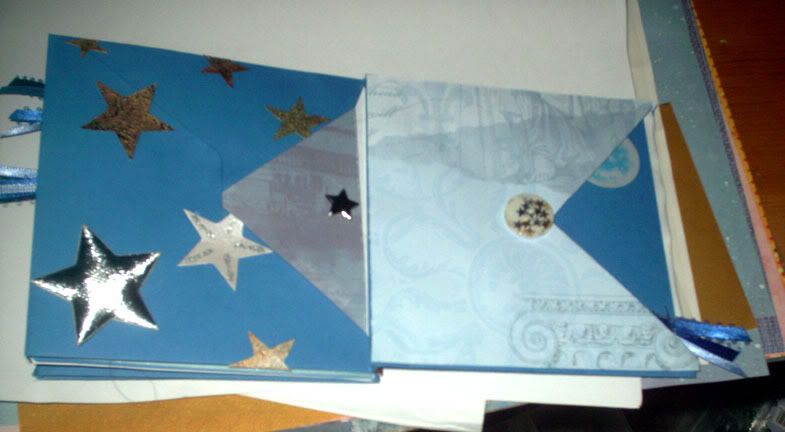 Last two envelopes. The left envelope is a hodge podge of stars. The large silver star is made of fabric and is stuffed. It was in the stash Pauline sent me. I was glad to finally give it a use! The other two whole stars are from a package of Jolee's I bought for this project. The other stars are the rest of the bronze sticker stars I bought.
I'm so happy I had a reason to go shopping. Of course, I bought myself some things I don't need right now, but plan to use someday [like that package of Celestial Vellum Stickers I bought 4 years ago, because I was sure I would use them!]. And I am especially happy that my older items I've been hanging onto now have a purpose, decorating this cute little album.