December 14 Rush.
-- When did you get your best rush of the year?
When I got into graduate school. Initially, I did not get in. I did not get in to the first school where I applied, so I moved on with my life. Then I applied to my current school and after waiting and waiting, I finally called to find out the decision and was told the bad news. I wallowed for like a week. Then I asked for reconsideration and added some things to my application I had originally excluded. I was told on Jan 20th that I could register and I was so happy I thought I would explode.
December 15 Best packaging.
-- Did your headphones come in a sweet case? See a bottle of tea in another country that stood off the shelves?
Nothing comes to mind for this one.
December 16 Tea of the year.
-- I can taste my favorite tea right now. What's yours?
It's not my favorite but lately I have been drinking a holiday plum spice blend from Celestial Seasonings.
December 17 Word or phrase.
-- A word that encapsulates your year. "2009 was _____."
CRAPTASTIC
December 18 Shop.
-- Online or offline, where did you spend most of your mad money this year?
I have had no mad money this year, really. Last spring I got a lucrative freelance gig and I treated myself to a good sized bottle of Chanel No. 5, purchased at the Chanel counter at Nordstom. I wear it every day and I never get tired of smelling like money and class.
December 19 Car ride.
-- What did you see? How did it smell? Did you eat anything as you drove there? Who were you with?
At the end of the summer I took a short road trip to the small town in southern Wisconsin where I spent summers and weekends with my grandparents.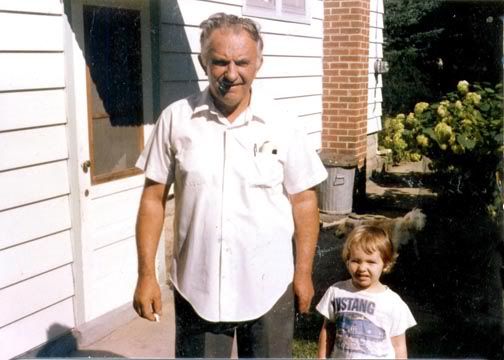 The picture is full of memories -- my younger sister wearing my hand-me-down Mustang T-shirt from my dad, the puffball bushes lining the path to the garage, the screen door I slammed over and over as I ran in and out, and of course, my grandfather.
I took pictures along the route of all the landmarks I remember from when I was a little girl, printed the pictures, wrote up the memories and created a small scrapbook. I don't have access to a printer (except at the library, where I cannot put in my own paper) so I still need to print out the journlaing blocks and adhere them.
There's nothing really exciting in there. Pictures like this: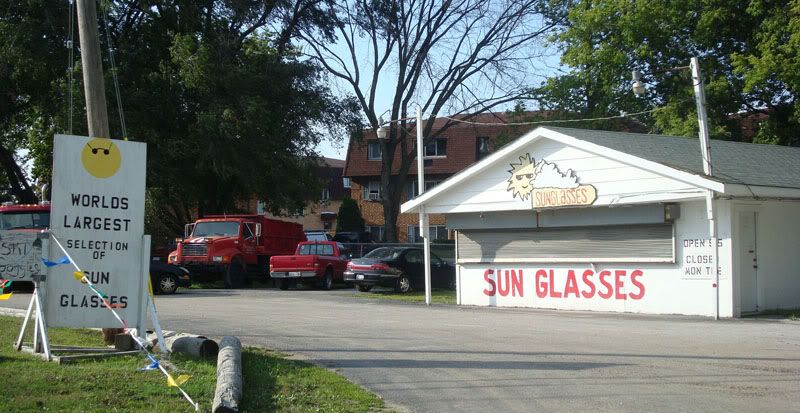 I loved looking for the smiling sun with the cool shades on what seemed like a very long car ride to Wisconsin.
I got to the outskirts of town and then the sun was setting so I gave up. On the way back I stopped at DOG N SUDS! :-) They have the best root beer floats ever.
Here since 1963!
December 20 New person.
-- She came into your life and turned it upside down. He went out of his way to provide incredible customer service. Who is your unsung hero of 2009?
My professor for the required library reference services class. No stereotypical mild mannered shusher here -- he's like Rock Star Librarian. The King of Snark. He is one of those teachers that opens your mind, sometimes forcibly, while you kick and scream and yell curse words. I fought that class and resisted writing a 70 page research paper on the Iran Hostage Crisis, of all things, but I got the most out of it in the end. He's the only grad school professor I have never really bitched about, because when I had a problem with him or his class I got right in his face about it, and I was never afraid to do so. He never dismissed my concerns, got defensive, patronized me or told me I was not understanding him because I was stupid or had not done the work, like my other professors. He was supportive and he took my criticisms seriously and then he brought my concerns to the whole class and we all discussed it together.
Also, not to be full of myself, but I really like talking to people who are smarter than me, and who think deeply, and it is not very often. It is a treat. His mind goes down paths I cannot even follow at this point. I really really like that.
He still gives me much to think about when we chat, and he always makes me laugh.
This Christmas will be hard on him due to some personal tragedy, so I send him many good thoughts. Since he is a part-time adjunct, my university chose to not have him teach in the spring. I hope he'll be back, because I think he is a fantastic teacher, and talking to him inspires me.
I can't believe the university would keep on some of these truly awful part time adjuncts, and not have him teaching. CRAPTASTIC.
December 21 Project.
-- What did you start this year that you're proud of?
Oy. Grad school. I fluctuate between saying "eh, it's not that hard -- it's
library school
for pete's sake. How hard could it be?" and saying "Holy Crap, I cannot get this done/figure this out and it is making me nuts!"
December 22 Startup.
-- What's a business that you found this year that you love? Who thought it up? What makes it special?
My brother's company, owned by his oldest friend, merged with another company, also owned by an old friend, to form
Utopic
. My sister was hired to do the photography for their website. Should be exciting. I am proud.
December 23 Web tool.
-- It came into your work flow this year and now you couldn't live without it. It has simplified or improved your online experience.
Google Reader. I used to use Bloglines and it was annoying. It did not update regularly and was difficult to navigate and organize. I switched ot Google Reader and I love it. Just not having to remember a different user ID and password makes me happy! I read a lot more blogs now and more regularly.